About Oguni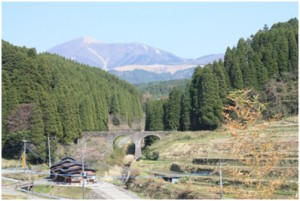 A rural town with a population of slightly under 8,000, Oguni is nestled in the far northeastern corner of Kumamoto Prefecture in the center of Kyushu. Lying just north of the volcanic caldera of Aso, the area is dotted with hot springs and several volcanic rock formations. The distinctive outline of Mount Waita (1499m) dominates the skyline, overlooking a landscape that is hilly, densely forested and interspersed with fast-flowing rivers.
Forestry has been an important activity in Oguni for over 250 years, the wet and humid climate being ideally suited to a particularly high quality of cedar known as Oguni Cedar. More recently, with the arrival of a herd of 98 Jersey cows shipped over from Australia in 1957 dairy farming has proved to be a success in Oguni, with high quality Aso Oguni Jersey dairy products, including delicious yoghurt and ice cream being produced locally. Thirdly, the hot spring areas of Waita and Tsuetate attract tourists from near and far, particularly day-trippers from the cities. The Tsuetate Onsen Koinobori Festival in April every year is a sight not to be missed, with 3500 colourful koi carp streamers dancing in the breeze over the Tsuetate River.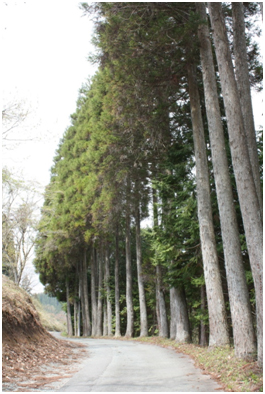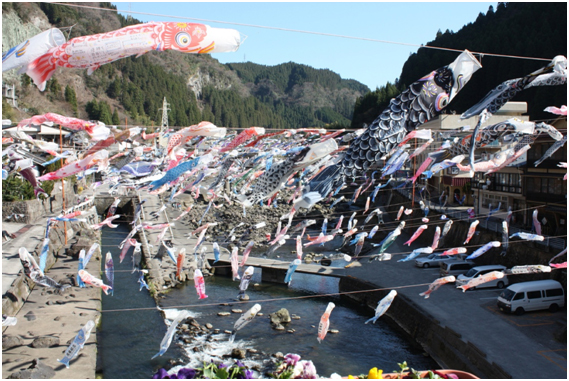 Unique Architecture
However, thanks largely to the efforts of the former mayor of Oguni, there is much more to this quiet and unassuming town than first meets the eye. Spend more than a few hours exploring the area, and you will discover a number of unusually-shaped buildings such as domes, pyramids and more, constructed mainly from local cedar and glass. These are modern structures and designs, but for the most part the use of cedar means that they blend in well with the surrounding landscape. Oguni Dome is the most impressive of these buildings—a large sports hall/concert venue designed by Shoei Yoh and making use of a "space grid system" whereby a large roof can be built without the need for central supporting pillars. Yu Station, a bus terminal and information center/gift shop built of glass and cedar and also designed by Shoei Yoh stands out in the very center of town and continues to serve its purpose well even after 25 years. The residential study center Mokkonkan in the Kitazato area also features a unique design of cedar and metal by the architect Hideaki Katsura, with a roof said to resemble a shoal of fish. Another building of note is the former Higo Bank in the center of town, which now serves as the town library and houses a large carving made out of a section of the ancient Amida Cedar tree, an important monument that was badly damaged in a typhoon in 1999.
A River Runs Through it..
One of my favourite pastimes is simply to walk around some of the local areas in Oguni. The Shizuka River runs right through the center of town, flowing past the imposing 200-year old cedars in the grounds of Ryojinja Shrine and under the shady branches of a glorious zelkova tree at Keyakisuigen on one side, a stone`s throw from Oguni Dome on the other. A disused railway line has been turned into a hiking path, shady and cool in summer, leading from Yu Station in central Oguni to the Kitazato area, where the carefully restored home of the scientist Shibasaburo Kitazato is now a small museum. In the opposite direction, a walk in the Horai area leads to Hokonosha Shrine, the Sakamoto Zenzo Art Gallery housed in a perfectly restored 100-year old traditional farmhouse, and then onto a cool and refreshing resting spot next to the Nabegataki Waterfall. The attraction of the waterfall on a hot day being that you can actually walk behind the curtain of water to cool down. Of course, these places can be visited by a tourist by car in one afternoon, but why not slow down, take your time and discover the hidden beauty of Oguni? You may never want to return to the city again, and believe me, I know that for a fact.
Residence
MAP