Minamioguni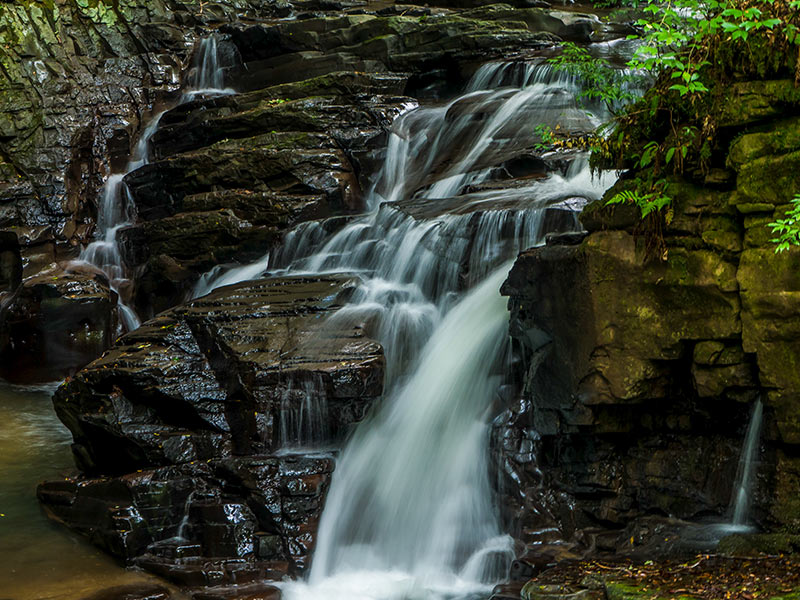 Minamioguni (南小国町 Minamioguni-machi) is a town located just north of Aso City, just outside of the Aso Caldera, in Aso District, Kumamoto Prefecture, Japan. The cozy town has an estimated population of around 3,600 people as of 2021.
Don't be discouraged by the lack of information on Wikipedia. Even if Wikipedia only spends two lines on a place, it doesn't mean that it is not worth visiting. On the contrary, this could make Minamioguni an even more attractive place as it has yet to be discovered by tourists.
Minamioguni is a hot spring heaven. For centuries, visitors have trekked to Minamioguni to soak in the restorative and rejuvenating hot waters that bubble up through numerous springs throughout the area. If you're looking for a quiet spot off the beaten track to relax and concentrate, Minamioguni is the perfect spot for you.
Manganji Onsen (満願寺温泉) is one of Minamioguni's famous hot spring areas and is home to some unique spa houses. There is also an open-air spring situated along the river. Many people still come here to do their laundry, wash their dishes, clean vegetables and enjoy the beautiful scenery while enjoying a hot bath in the open air. It is a sight that will make you feel like you just stepped back in time.
The most famous hot spring area in Minamioguni is Kurokawa Onsen (黒川温泉), with numerous outdoor baths (露天風呂 rotenburo) and beautifully atmospheric, traditional Japanese style inns (旅館 ryokan). Whether you want to relax, find inspiration for your next piece of art, or are just looking to get a glimpse of beautiful Japanese architecture surrounded by incredible nature, this is a place that you must visit once in your life.
You'll discover baths along the river and in the woods, in the center of town or overlooking mountain views, cave baths, rocky pools, wooden tubs, standing baths, mixed baths, historic baths, modern baths, and more.
In Kurokawa, you are guaranteed to see Japanese people dressed in traditional Japanese style bathrobes or "summer kimonos" (浴衣 yukata). If you want to blend in, you can even rent a yukata set yourself to stroll about town in.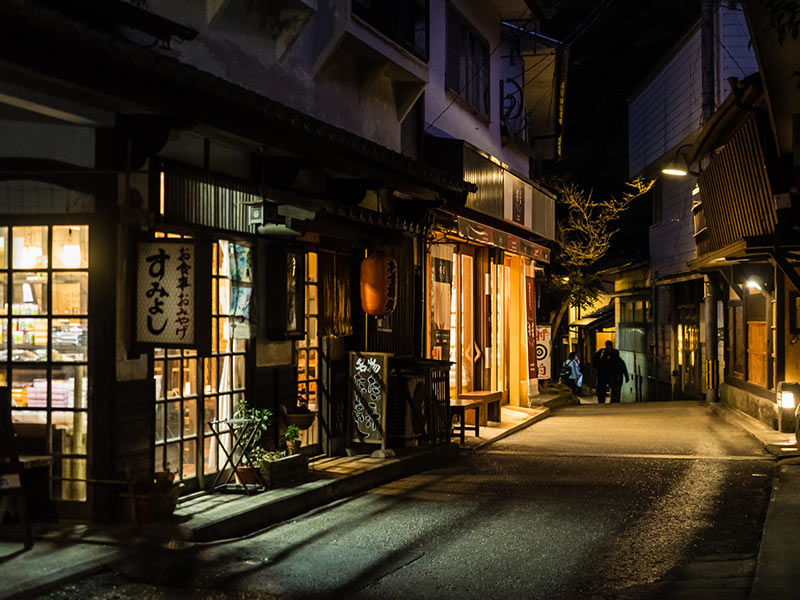 Minamioguni offers more than hot springs. It is also a popular destination for couples seeking to ensure a happy marriage at Meoto Falls (夫婦滝).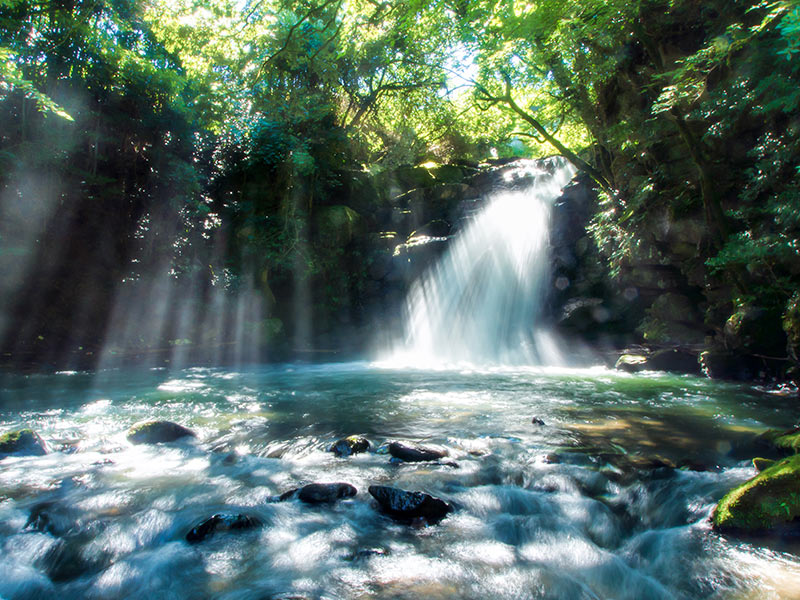 Meoto Falls consists of two waterfalls facing each other. They are said to reflect the legend of tragic love between a samurai and a young woman from the village. Nowadays, many people visit this place to pray for luck in love and for a happy marriage.
Apart from beautiful waterfalls, Minamioguni is also home to Mazeno Gorge (マゼノ渓谷).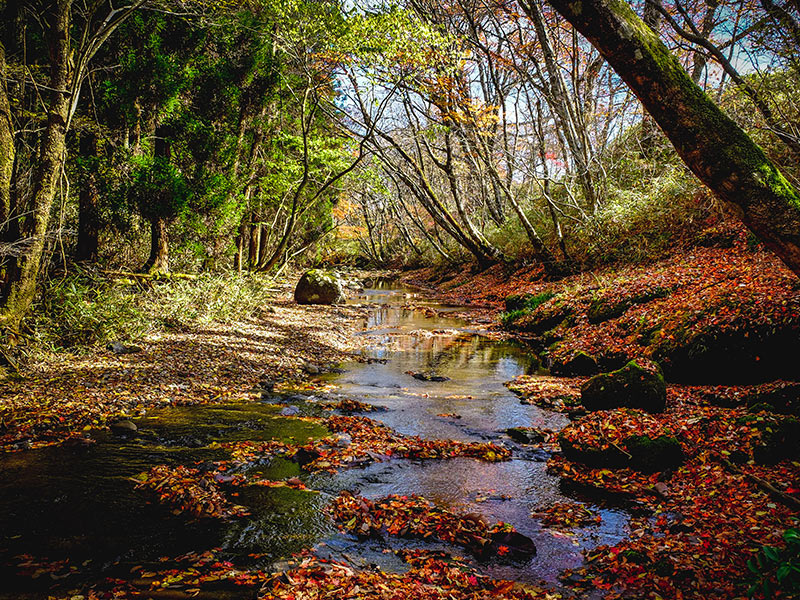 The Mystery Road (ミステリーロード) runs through this mountainous area and offers great views. It is the perfect road for a great drive on a beautiful day and it will take you to yet another landmark: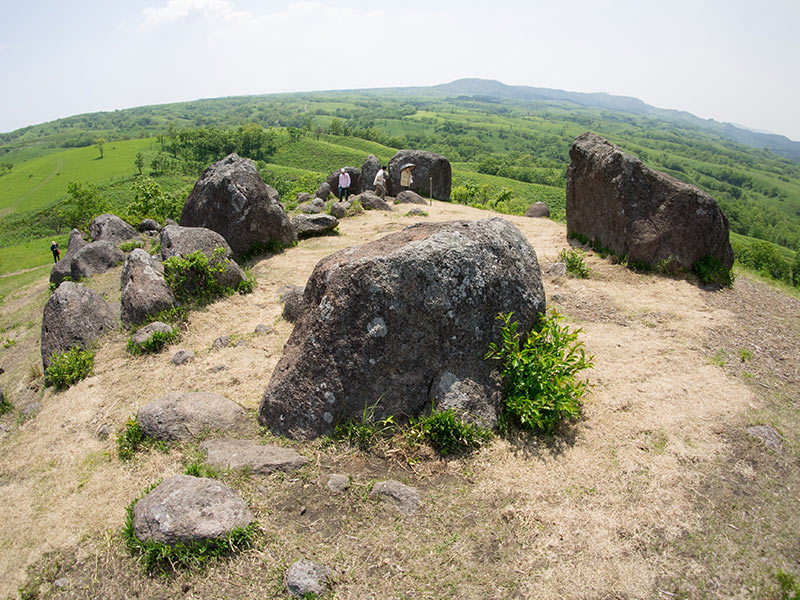 Oshito Ishi (押戸石). Hundreds of rocks, both large and small, lie scattered among the hills on the northern part of Mt. Aso's caldera. The biggest of these rocks is called Oshito Ishi.
Mysterious ancient petroglyphs are carved into the side of this rock formation, suggesting that these rocks may have been used in some kind of ancient ceremony or ritual. Even if you couldn't be bothered with the historical importance of this site, it is still a place very well worth visiting, as it will provide you with one of most breathtaking views in the entire Aso area.
Another place with a breathtaking view is Senomoto Plateau (瀬の本高原), which stretches out over Minamioguni and into Taketa City (Oita Prefecture) and offers impressive views of the Kuju mountain range and Mt. Aso.
Minamioguni is also home to many traditional art forms. Among these are sacred music and ritual dances, such as Nakabaru Gaku (中原楽), Shishimai (獅子舞), Yoshiwara Kagura (吉原神楽) and Tanoharu Bon Odori (田の原盆踊り). Many of these art forms were handed down from one generation to the next. They often include traditional instruments (e.g. taiko drums, shakuhachi), fashion (including masks), weapons (e.g. katana) and other cultural items.
After indulging yourself in all of the wonders that one can find in Minamioguni, it is time for some great food. Japanese people travel from all over Japan to Minamioguni just to taste the best handmade soba (Japanese buckwheat noodles) available. In fact, Minamioguni made soba so famous that they have an entire road named after the food, called the Soba Kaido, where you can find various restaurants offering delicious handmade soba.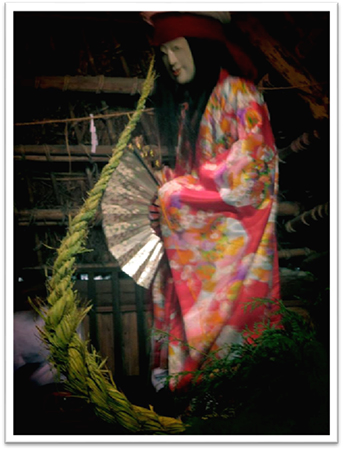 Minamioguni is not only a very beautiful place; it is also filled with beautiful people. The locals are very friendly and welcoming. This may be thanks to the local organic food and pure mountain air that people take in on a daily basis.
In conclusion, if you're looking for a quiet place to escape, focus on your art, and mingle with the locals at the neighborhood hot spring, Minamioguni is the place for you.
Residence
MAP