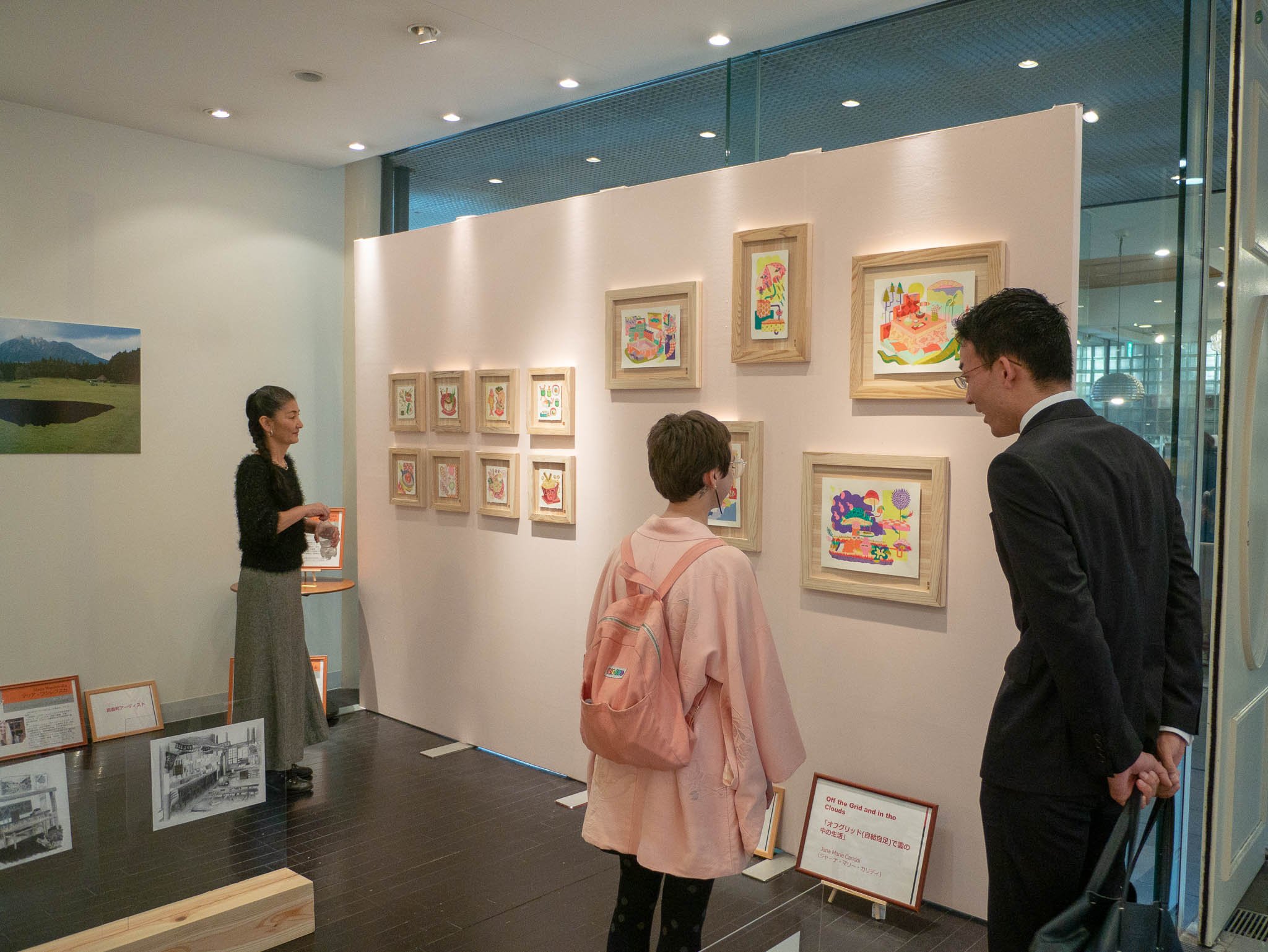 Off the Grid and in the Clouds
「オフグリッド(自給自足)で雲の中の生活」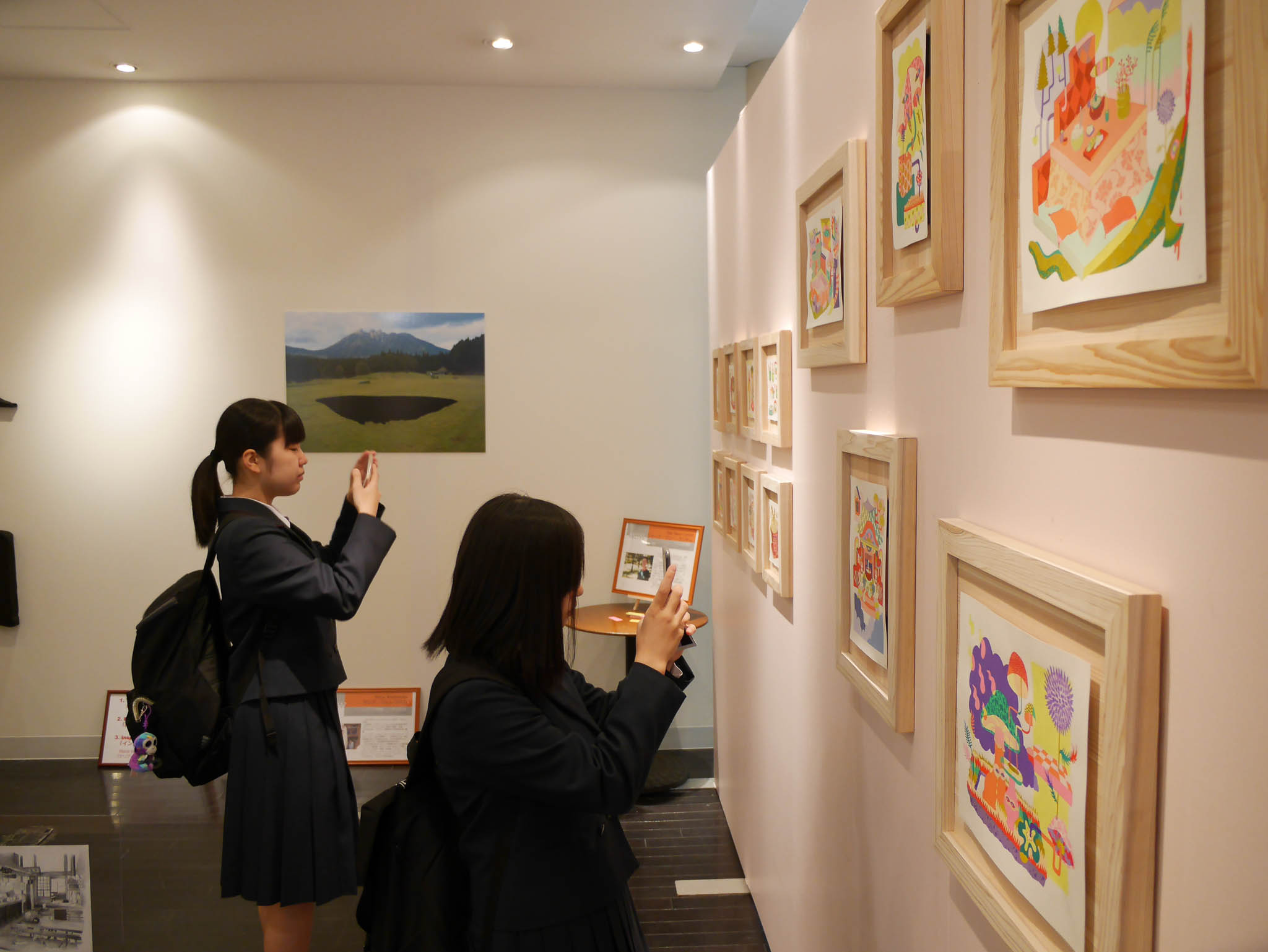 Would you explain about your works for the exhibition?
I wanted to make artworks that represented the place, Ubuyama, a magical place. At first, I started to paint not the smaller ones but the big paintings. Something stuck in my memories like shrine, Ubuyama Onsen, Higotai and Kotatsu. Major symbols for me in Japan because I don't have them in my own country. It's very different from where I grew up, so I wanted to take things which are very special to me and make my own experience. I also wanted to use food in Ubuyama and make something you can understand the culture how special it is in Japanese culture so much older than America. We don't have this rich food culture that Japan has. Especially in Ubuyama they eat from the land very local and grow them by themselves so there are lots of heart and soul from the food and that's why I put the eye to make food like a person. I wanted to capture that Japan is spiritual. In Japan, everything has a god so everything that I made has an eye like god.
How was your impression of Aso?
I love it. Such a different culture experience, I would never gotten this opportunity to come to Aso if I didn't know about this residency. It is such a beautiful place, and so special. I think south of Japan, the community is strong, its not busy like a big city. Everybody knows each other and its funny driving on the street and you see somebody driving by and wave your hands and its so nice, I love it. Aso is beautiful and I've never seen anything like this in my life, never!
展覧会の作品について説明していただけますか?
私は産山という不思議な場所を代表するような作品を作りたかったのです。最初は大きい方の絵を描きました。神社、産山の温泉、ヒゴタイ、こたつなど記憶に残ったものです。これらは自分の国にはないので、私にとっての日本の主要なシンボルです。私が育った場所とは大きく違うので、そこでの特別なものを自分なりに吸収して体験してみたいと思いました。私はまた、産山の食材を使って、アメリカよりずっと古い日本文化がどれだけ特別なものかを表現する作品を作りたいと思いました。日本のように豊かな食文化の国はありません。特に産山では、土地のものを地元で食べ、自分たちで育てていて、料理には心と魂が込められていますので、私の作品の全てに「目」を入れてあるのです。
日本はスピリチュアルな国だと捉えたかったのです。日本ではすべてのものに神様が存在するので、私の作品にはすべて神様のような目が入れてあります。
阿蘇の印象はどうでしたか?
大好きです。すごい異文化体験でした。もし私がこのレジデンスプログラムを知らなかったら、阿蘇に来る機会はなかったでしょう。とても美しくてとても特別な場所です。南日本は地域の力が強く、大都市のようにせわしくありません。誰もがお互いのことを知っていて、運転をしていて、誰かが通り過ぎる時手を振るのを見ると面白いし、素敵なことで、大好きです。阿蘇は美しく、私の人生でこれほどのものを見たことがありません!